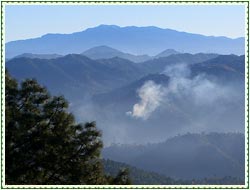 Kasauli, located amidst forests of chir-pine, Himalayan oak and huge chestnuts, is a major tourist destination in Himachal Pradesh. The place was initially a very small town, which British later developed for their purposes. Kasauli is 36 kilometers away from Kalka and falls on Kalka-Shimla road. Located in sub-Himalayan range of mountains, the hill resort has a pleasing weather and offers excellent opportunity for trekking and paragliding. It is always better to be informed about the climatic condition of a place before going there. Here, we are giving detailed information about the weather condition of Kasauli.
Summer
Summer is ideal for traveling to Kasauli, as the weather is pleasing and romantic. Days are little warm and nights are mainly cool. Most of the tourism takes place during this season, as the place gives respite from scorching heat of the Indian plains. Summer starts from the month of April and lasts till June. Light cotton clothes are ideal for travelers in this season.
Monsoon
Monsoon in Kasuali starts in the month of June and lasts till the month of September. Most of the rain takes place in the month of July and August. During this season, the weather becomes very romantic and the whole valley looks extremely picturesque. It is the perfect time for honeymoon couples, who are looking forward to develop an everlasting bond.
Winter
The winters in Kasauli last from November to February and are chilly. Rare snowing during winters makes the place even more attractive. Climatic condition during winter is not unbearable also, but definitely much more cold than the plains. Heavy woolen clothes are recommended, as temperature can dip down to freezing point also.