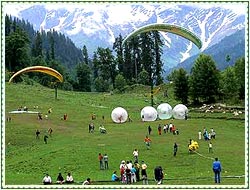 A small, but scenic town in Himachal Pradesh, Kasauli woos the visitors with its 'old world' charm. A small cantonment town in Solan district, it was established as a hill station by the British, in 1842. Though decades have passed since India's independence, the influence of the British era can be seen on Kasauli even today. However, it has come a long way from that time and boasts of a rich tourism industry today. Apart from its mesmerizing beauty, the town offers the visitors a lot of adventure sports as well. In this article, we will tell you what to do and see in Kasauli.
Fun Activities to Do in Kasauli
Trekking
If you have come to the northern part of India, looking for some picturesque trekking routes, then Kasauli surely merits a visit from you. You will find a number of treks from the place, such as those to Kalka, Jabli and Garkhal. For instance, the trek from Jabli to Kasauli stretches over approximately 9 kilometers and brings you across some of the most striking vistas.
Nature Walks
If you come to Kasauli, indulging in nature walks is something that you cannot simply afford to miss. Such walks help you explore the raw beauty of the town, with the scenic views only being disturbed by the birds. For instance, you can take the shortcut trail to Kimmughat, from Kasauli's Lower Mall. Then, there is a trail that goes from Old Kasauli Road to Parwanoo. The 1.5 km long Sanawar-Mandudhar Walk is the highlight of the town.
Paragliding
At a distance of approximately 12 km from Kasauli, you will find a small and sleepy hamlet, Dagshai. One of the oldest Birtish cantonments in the area, it is the most famous for offering adventure activities to the visitors, of which one is paragliding. So, get ready to get airborne and talk with the winds.
Camping
There are a number of sites around Kasuali where camping facilities are provided; of which one is Dagshai as well. Staying in these camps, right in the lap of nature, would help you forget all about the tensions and stresses of the daily city life and make you feel like a completely new person.