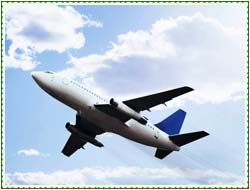 Barog is a small hill station in Himachal Pradesh, which has been gaining increased recognition from tourists. It started being noticed by people in the early 20th century, when it comprised of one of the stoppages on the route of the Kalka-Shimla toy train. Since then, its popularity has increased manifolds. Apart from being a beautiful destination, the town is also known for its 1,143m tunnel, which is long enough for a train to take three minutes to cross. In case you are planning to travel to Barog and are looking for information on 'how to reach' there, just explore the lines given below.
By Air
Barog does not have an airport of its own. If you are planning to come to the city by air, the nearest airports will be those of Chandigarh and Shimla. Both the airports have regular flights to city. Jagson and Deccan Airways cater to Shimla airport, while from Chandigarh; you can avail the services of Simplifly Deccan, and Indian Airlines.
By Rail
Barog has a railway station of its own, which falls on the Kalka-Barog-Shimla narrow gauge. The next nearest railway station will be that of Chandigarh, which is connected with all the key cities of India. If you are thinking of traveling to Barog by train, it will better to come to Chandigarh and from there, take a bus or taxi to the city.
By Road
Barog has a good network of roads, which connects it with the major cities in and around Himachal Pradesh. The city is approximately 300 km from Delhi, 60 km from Chandigarh, 54 km from Chail, 21 km from Kasauli, 8 km from Solan and 58 km from Shimla. You will easily get buses as well as taxis for reaching Barog, from any of these destinations.