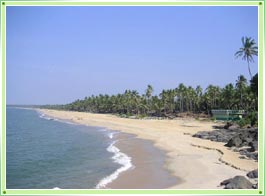 One of the best maintained beaches in Kasargod, Bekal Fort Beach is a vast expanse of white sands spread over an area of 35 acres. The beach is dotted with palm trees thus giving it an exotic feel. The Bekal fort beach in Kerala is also famous for a landmark fort known as the Bekal fort. It is a beautiful fort, which has been preserved to some extent and makes a great observatory point. The Arabian Sea can be seen in its entire splendor and is a great place to view sunset and sunrise.
The beach is a visual delight as it has been recently given a facelift by the concerned authorities. Two huge sculptures with beautiful murals have been set up there to make it look beautiful. After sunset, the beach is illuminated with electric bulbs so that people can enjoy the beach even after dusk. There is a water park for children on the premises that attract tourists as well as locals in large numbers. One can also rest in the sheds that have been set up at random distances. There is plenty of parking space available for vehicles and a very nominal fee is charged for parking.
How to Reach Bekal Fort Beach
By Air
Nearest airport is at Mangalore at a distance of 50 kilometers from Kasargod.
By Rail
Nearest railway station is at Kasargod.
By Road
Easily accessible by a wide network of roadways, linking it with major towns and cities of Kerala.