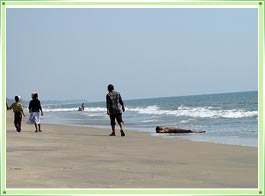 The Chithari Beach is a beautiful beach with vast sandy shores, dotted by green trees. It looks absolutely untouched by time and you will feel like you have reached a magical land. While in Kasargod, Chithari beach should be on your list as one the places that you must visit. If you like staying away from urban centers and crowds thronging beaches, then this is the place for you. The Chithari beach in Kerala is still unexplored and you won't find many tourists there.
The beach has a historic fort located on its borders, known as the Bekal fort. Though mostly in ruins, it makes a great place for a quiet moment with nature. The island is accessible by a boat and you may find some boatmen and locals sitting here and there to take you to the island. This beach is being promoted as a part of Bekal Tourism Project and is soon to become a hot tourist destination.
How to Reach Chithari Beach Kasargod
By Air
Nearest airport is at Mangalore at a distance of 50 kilometers. Another one is at Kozhikode at a distance of 200 kilometers.
By Rail
Nearest railway station is at Kanhangad at a distance of 5 kilometers.
By Road
Easily accessible by a wide network of roadways, linking it with major towns and cities of Kerala.