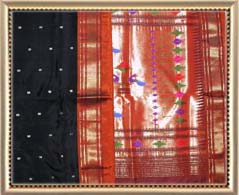 Paithani is a variety of sari, manufactured in the Paithan region of Maharashtra. Paithani saris are handmade, from the finest quality of silk, and are considered to be one of the richest saris in the state. The art of making these sarees goes back to more than 2000 years ago. Zari threads, drawn from pure gold, are used to adorn the sari with intricate designs. The intricate thread work results in the saree being finished in a long time.
A heavily brocaded Paithani sari will take anywhere from six months to one and a half years to get fully ready. Infact, even a plain and simple sari takes atleast one month for being completed. This is the main reason why the saree commands such a high price in the market. The pallu as well as the border of the saree is especially heavily embellished, with the help of the gold thread. The trousseau of a Maharashtrian bride is incomplete without a Paithani sari.
Motifs and Colors
Since the Patithan region is quite close to the Ajanta caves, one can find the influence of the Buddhist paintings in the motifs used on the Paithani sarees. For the body of the sari, some very common motifs are Kamal or lotus flower, Hans, Ashraffi, Asawalli (flowering vines), Bangadi Mor (peacock), Tota-Maina (male & female parrot), Humarparinda (peasant bird), Amar Vell and Narali. One can also see motifs like Circles, Stars, Kuyri, Kalas Pakhhli, Chandrakor, Leaves Cluster, etc.
For the pallu, the common motifs are Muniya (a kind of parrot), Panja (geometrical flower-like motif), Barwa (12 strands of a ladder), Laher, Muthada (geometrical design), Asawali (flower pot) and Mor. The colors usually used for making a Pathani saree are yellow, red, lavender, purple, sky blue, magenta, peach pink, purple, pearl pink, peacock blue/green, yellowish green, violet red, black and white, black and red, red and green, etc.
Types of Paithani Saris
There are different types of Paithani saris, classified on the basis of three criteria - motif, weaving and color.
Classification by Motif