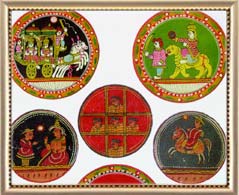 Sawantwadi is the name of a small taluka in the Sindhudurg district of Maharashtra. The taluka is mainly known for being associated with the craft of lacquer ware, popularly known as the Sawantwadi craft. The craft was introduced in the Sawantwadi somewhere around the end of the 17th century. With time, the popularity of the craft grew and a number of schools were started in the 18th and 19th century, where Sawantwadi crafts were taught.
With the passage of time, a large number of artisans were brought from the nearby places like Goa to Sawantwadi, for making the craft. Sawantwadi lacquer ware today covers a large number and an exhaustive variety of products, like chess sets, board games, candlesticks, fruit and vegetables and little dolls. However, most of the artisans still concentrate on traditional hand painted and lacquered furniture and light fittings.
Sawantwadi craft can be roughly divided into three distinct styles, namely Chitrakatha, Temple and Ganjifa. Ganjifa card games were made in the 18th and 19th century and were used for play purposes. Today, they have been reduced to mere show pieces. Once can see these card games being displayed in private collections or in museums. Whatever be the purpose, the products made under the Sawantwadi crafts are still amongst the popular crafts of Maharashtra.