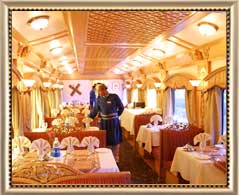 Deccan Odyssey comprises of thirteen fully air conditioned deluxe saloons. Each of these saloons consists of four chambers that are twin bedded and have a common lounge. All the chambers have channel music, intercom, CD/MP3 player, wall to wall carpeting and other amenities. They also have attached toilets, with running hot and cold water and a shower. The other services and facilities that are available onboard the Deccan Odyssey train of India include:
Services for the Physically-challenged
Facilities, like wheel chairs, crèches and a special attendant, have been provided for the physically-challenged people.
Luggage
The moment you enter the train, your luggage is picked by the attendants and taken to your respective chamber.
Complimentary Kit
Each of the guests is provided with a complimentary kit on arrival. It comprises of the basic items, like stationery items, brochures, cards, etc. In case you need something else, you can always ask the attendant for the same.
Attendant
There will be an assistant at your service at all the times and he will take care of all your travel needs.
Meals
The breakfast as well as the dinner will be served inside the train only. A number of cuisines will be available onboard, from which you can choose your pick.
Drinking Water
The health of the guests being of very much importance, only bottled mineral water is served onboard the train.
News Papers and Magazines
Being onboard the Deccan Odyssey does not mean that you will get disconnected with the rest of the world. The leading newspapers and dailies will be delivered to you every morning. Along with that, there is also a large collection of magazines.
Toiletries
Guests are provided with all the essential toiletries, like soaps, shampoos, moisturizers, etc.
Bar
There is a well stocked bar inside the Deccan Odyssey, where you can easily get wine, liquor and spirits of Indian and International Brands. However, the cost of liquor is not included in the tariff and you will be required to pay for the same.
Wine/Beer
On arrival, the guests are given a complimentary bottle of wine, courtesy the Deccan Odyssey.
Mailbox
While on Deccan Odyssey, you are provided a mailbox, through which you can easily discharge your mails.
Medical Facilities
The requisite first-aid facility has been provided onboard. The services of a doctor can be arranged on call at the next approaching station.
Restaurants
Deccan Odyssey also comprises of two exquisitely done restaurants that serve lip-smacking Indian cuisines.
Smoking
There is an exclusive non-smoking suite car for those who are completely averse to smoking. For the smokers, there is a separate bar car 'Mumbai Hi'.
Spa
The guests can utilize the onboard spa for body massage and facials with ayurvedic oils and steam bath. There is also a gymnasium for workouts. However, there are separate charges for using the same.
Business Center
There is a well equipped Business Center in the train, consisting of computers, secretarial services, photocopying, telecommunication, internet and other equipments, available on rental basis.
Safe
Each cabin has been equipped with an electronic safe, where the occupants can keep their valuables.