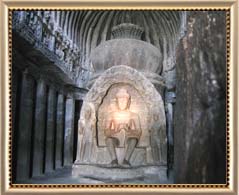 There are thirty four caves at Ellora, in toto. Out of these, twelve belong to Mahayana sect of Buddhism, seventeen belong to Hinduism and five belong to Jainism. Given below is information on all the major and important caves at Ellora.
Buddhist Caves
The Buddhist Caves seen at Ellora belong to the time when its Mahayana sect was flourishing. The caves that have been numbered one to twelve belong to this religion and were constructed between 550 AD and 750 AD. The Buddhist caves of Ellora basically comprise of viharas (monasteries). They are nothing but, large buildings carved into the face of the mountain. The viharas are multi-storied and include rooms like living quarters, sleeping quarters, kitchens, etc. There are some viharas that were used as shrines by their dwellers
They have been adorned with exquisitely carved images of Lord Buddha, Bodhisattvas and some saints. Out of these, the most important ones comprise of cave number 10, 11 and 12. Cave 10 is a Chaitya Hall, based on the Chaitya architecture of India. It is popularly known as 'Vishwakarma Cave' or 'Carpenter's Cave' and has a 15 foot idol of Lord Buddha, in a preaching pose. Cave 11 as well as 12 is a three-story structure. The former is known as 'Do Tal', while the latter is known as 'Teen Tal'.
Hindu Caves (Kailasa Temple)
There are total seventeen caves at Ellora that belong Hindu religion. They are numbered from thirteen to twenty-nine and date back to somewhere between 600 AD and 875 AD. The intricacy with which these caves have been built is so great that it must have taken generations of hard work and labor to complete them. Of all the Hindu caves in Ellora, the most significant one is cave 16, which comprises of the 'Kailasa' or 'Kailasanatha' Temple. It was carved out of a single piece of rock.
Believed to be the largest monolithic structure in the whole world, the temple has been carved in such a way, so as to represent Mount Kailash - the abode of Lord Shiva. The entrance of the temple has been provided by a two-storied gateway. As we enter the gateway, a U-shaped courtyard - bordered by columned galleries - greets us. The galleries are three-stories high and stand interspersed with massive sculpted panels and alcoves, which are adorned with huge sculptures of various deities.
Initially, these galleries were connected to the central temple, with the help of flying bridges of stone. The courtyard of the Kailasa Temple comprises of two structures. In the path leading to the sanctum sanctorum, where the Shivalinga is enshrined, one finds the image of Nandi Bull, the vehicle of Lord Shiva. There is also a Nandi Mandap inside the temple that, along with the main Shiva temple, reaches a height of almost 7 m. The lower stories of the mandap are adorned with illustrative carvings.
At the base of the temple, one can see elaborate carvings that create the feel that elephants are holding the structure aloft. The Shiva Temple has been built as per the South Indian style of architecture, representing a pyramid to some an extent. The temple is made of living stone and has exquisitely carved niches, pilasters and windows, along with images of deities, mithunas (sensual male and female figures) and other figures. Deities on the left of the shrine are mostly Shaivaite and those on the right are mostly Vaishnavaite.
In the courtyard of the Kailasa Temple, you can see a huge sculpture of Ravana, who is shown attempting to lift Mount Kailasa. The construction of this shrine required 200,000 tonnes of rock, and took around 100 years to be fully complete. There are a number of other notable caves belonging to the Hindu religion at Ellora. These include Dashavatara Cave (Cave 15), which depicts the 10 incarnations of Lord Vishnu. Then, there is the Ramesvara Cave (Cave 21) and Dhumar Lena Cave (Cave 29).
Jain Caves
There are five Jain caves in Ellora, numbered 30 to 34. They are believed to have been built somewhere around 800 AD to 1000 AD and reflect certain elements of the philosophy and tradition of Jainism. These caves are neither too large, nor too ostentatious. Infact, one gets a sense of asceticism by looking at the Jain caves. However, they do have remarkably comprehensive art works. Some of these caves have remains of, what were once, rich paintings.
Of all the Jain caves at Ellora, the most impressive is cave 32, a shrine known as 'Indra Sabha'. The floor of this cave has been ornamented with a very beautiful carving of the lotus flower. There is a yet another Jain cave, with exquisite carvings. The carved image has an imposing yakshini, seated on her lion, under a mango tree laden with fruits. Though without much ornamentation, Jain caves at Ellora are as remarkable as the Hindu and Buddhist ones.