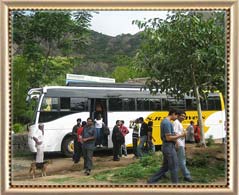 Ellora Caves are situated near the Aurangabad city of Maharashtra. They claim the distinction of being a UNESCO World Heritage Site and are also one of the major attractions drawing tourists to Maharashtra. These caves have been found to be constructed somewhere around 5th century to 10th century. The caves at Ellora represent the three religions of the world - Buddhism, Hinduism and Jainism, and signify the exquisite cave temple architecture of that time. For those who want to know how to reach Ellora Caves, this article is just perfect. Given below is information on reaching the caves, by air, rail as well as road.
By Air
Aurangabad airport is situated the closest to the magnificent caves of Ellora. Approximately 15 km away, the airport is connected with the Delhi and Mumbai international airport, by public as well as private airlines. The other cities of Maharashtra as well as the neighboring states are also well connected with the Aurangabad airport.
By Rail
The rail head that lies nearest to the Ellora Caves comprises of the Aurangabad railway station. It falls on the South Central Railway Line and is situated about 30 km from Ellora. There are direct trains linking this station with most of the key cities in India, making the caves accessible for those traveling by rail.
By Road
Aurangabad city is located closest to Ellora Caves and is well connected with them by road. One can easily find taxis as well as buses plying between the two destinations. From Aurangabad, one can also find buses and taxis to Mumbai, Pune, Ahmednagar, Jalgaon, Shirdi, Nasik, Dhule, Ahmedabad, Hyderabad, Indore and Bijapur.