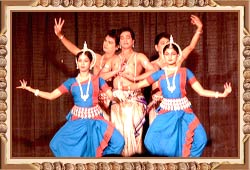 Time:
December
Location:
Sun Temple in Konark
Highlights:
Dancers come from different parts of the country to show their performance.
Konark Music and Dance Festival is one of the most rocking festivities of Orissa, celebrated with much gusto and enthusiasm. It usually takes place in the month of December. The open-air auditorium of the Konark Sun temple serves as the venue of this wonderful festival. Konark Dance Festival is organized to promote the classical dances and music of India. It witnesses many exceptional performances by established performers as well as novices, who come here from the different parts of the country.
Accomplished as amateurs musicians come here to play various instruments, which include drums, cymbals, etc. It is a grand extravaganza that sets the mood of people with sounds of music. The dancing hall of the Sun temple is truly an architectural wonder. The designing of its wall, which is a reflection of the ancient times, is simply outstanding. Konark Dance Festival provides a golden opportunity to the newcomers to exhibit their talent.
One can witnesses almost all the classical dances of India in this festival, right from Odissi to Bharathnatyam to Manipuri to Kathak. Thus, it acts as a great platform for the dance connoisseurs and other performing artists to learn about different dance forms of the country. At Konark Music and Dance Festival, one can also see a Crafts Mela, displaying the ethnic craftsmanship of Indian artists. Then, there is the Food Mela, providing the most delicious delicacies of the country. The festival is gaining more popularity day by day, attracting a larger number of art lovers every year.