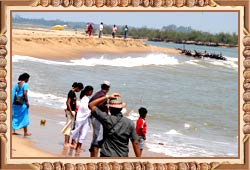 Time:
November
Duration:
Four days
Location:
Puri Beach
Highlights:
A number of cultural events like music shows
One of the most popular festivals of Orissa is the Puri Beach Festival. Fun lovers look forward to celebrating this festival every year at one of the holiest cities of India. The credit for conducting the wonderful Puri Beach Festival goes to the Hotel and Restaurant Association of Orissa (HRAO). It is co-sponsored by the Ministry of Tourism, Government of India; the Department of Tourism, Government of Orissa; Development Commissioner of Handicrafts and the Eastern Zonal Cultural Center; Calcutta.
A variety of cultural events take place at the festival, ranging from fashion shows to various music shows. Puri Beach Festival, held at the beautiful beach of the holy city, is a delight not just for locals, but also for the tourists. It is a four-day long annual festivity that is hosted in the month of November. This festive occasion has been attracting more and more visitors every year. So, if you are planning a tour of Puri, the abode of Lord Jagannath, make sure you don't miss being a part of the fabulous Puri Beach Festival.