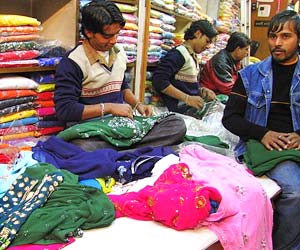 Ludhiana has a number of things to offer to its tourists, which they would want to take back home. All over the city, there are innumerable shops selling various items catering to the daily needs of the people. There is a grand display of Punjab's traditional handicrafts, like phulkari, jootis, parandis, jewelries, dress materials etc. Also, one can shop for the modern items that are widely available in almost all the shopping centers. Ludhiana has both modern and old markets. This is so because it is among those cities that have grown at a phenomenal pace, in the Post-Partition era. A unique thing about Ludhiana is that you can find a market almost all the products. For example, cycles are readily available in cycle market. If one intends to shop for hosiery products, Sunder Nagar or Dal Bazar or Chawal Market or Bajra Nagar will be the best option. Akal Market, Dr.Gujjar Mal Road, Karim Pura Bazar are famous for textiles and Mochpura Bazar for quality range of shawls and blankets.
Shopping Places in Ludhiana
There are a number of shopping malls and markets in Ludhiana, which one can explore to get the best products at the most reasonable prices. Some of the popular shopping centers of the city have been listed below.