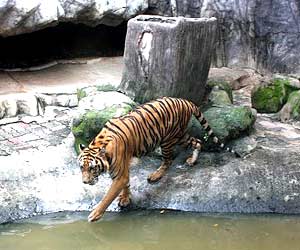 Ludhiana, the largest city of Punjab, boasts of being a popular tourist spot. It has both historical monuments as well as religious centers that attract tourists from all over the world. The important tourist places of Ludhiana have been listed below:
Places to See in Ludhiana
Nehru Rose Garden
Spread over an area of 30 acres, Nehru Rose Garden is in the Civil Lines area of Ludhiana. It serve as an open ground for people to have morning and evening walks, exercises and also offers some priceless moments of relaxation. There are more than 17,000 plants here, representing 1,600 varieties of roses, apart from several fountains. Every year, a Rose Festival is held here, which attracts lots of tourists.
Tiger Zoo
Tiger Zoo is located on GT Road (Ludhiana-Jalandhar Highway) and is just 6 km away from the main city. It consists of varieties of majestic tigers moving freely in the protected jungles. The tigers are viewed from a distance and offer exciting sight. People come from far and wide to enjoy a tiger safari at the place.
Hardy's World
Located at a distance of 7 km from the main city, Hardy's World is an amusement park in Ludhiana. It offers theme parties, cafes, joy rides, and water sports to the visitors. It also boasts of ice-skating and snowfall. This is India's 3rd largest Indoor snow city. It is a great fun for people of all age groups.
Lodhi Fort
It is a 500 year old fort, which was constructed by Sikander Lodhi when he ruled the plains near River Sutlej. Though it is in ruins today, a lot of tourists come here to see it.
Punjab Agricultural University Museum
Founded in 1962, Punjab Agricultural University Museum is known all over the world. It is located on the outskirts of the city and is modeled on the Land Grant of America. It organizes the Kisan Mela every year. It also contains a Rural Museum.
Rural Museum
Rural Museum was inaugurated by Khushwant Singh on April 26, 1974. It is situated in The Punjab Agriculture University Campus. The museum poignantly depicts the rural life of the Punjabis and displays the Punjabi culture at its best. There is a 100-yard long path, flanked by water channels on both the sides. This leads to the finely carved doors of the museum at the entrance. Its interior is divided into a number of sections.
The museum has a collection of Harappan pottery and coins, house-hold equipments like grain storage bins, equipments for spinning and weaving, musical instruments like Dholak (drum), Sitar, Sarangi, Tamba and Algoza. The museum also displays typical Punjabi dress, jewelry and Punjabi juttis. It contains a rich collection of traditional handicrafts and artistic collection. It is open on all working days, from 9 am to 1 pm and 2 pm to 5 pm.
War Museum
Maharaja Ranjit Singh's War Museum was planned in 1990, with an aim to create general awareness about the defense services, which not only serve in defending the country, but are also a symbol of national integration. There are regular shows held in the light and sound hall of the museum.
Religious Centers

Gurdwara Charan Kanwal Sahib (Machhiwara)
Located on Charan Kamal Road, in the small town of Machhiwara, Gurdwara Charan Kanwal Sahib is at a distance of 35 km from Ludhiana. There are many religious connotations associated with the place the gurdwara is built on. It marks the site of the garden where Guru Gobind Singh had a sip of water and a spell of small sleep. He had rested here while fighting a guerrilla war against the massive Mughal force. This is the place where his three devotees - Dharam Singh, Daga Singh and Manu Singh joined him. A religious fair is held here every year, to commemorate the memory of the saint.
Gurudwara Nanaksar Jagraon
It is located 38 km from Ludhiana and is dedicated to the Sikh saint, Baab Nand Singh Kaleranwale. A five days fair is held here in August every year.
Gurudwara Shrimanji Sahib Alamgir
The Gurdwara is located 10 km away from Ludhiana. It commemorates the place where the Muslim devotees Nabi Khan and Ghani Khan carried Guru Gobind Singh to safety during the battle. An annual fair is held here in the month of December.
Bilwanwali Masjid
The mosque belongs to the time of Emperor Jahangir. It is dedicated to Kamal-ud-din Khan/Sarai Doraha and is rectangular in shape, with rooms and verandahs on all sides. There are two double storied gates here, which are profusely decorated with colored tiles and intricate brick carvings.
Pir-I-Dastir Shrine
This fort is located to the north-west of Ludhiana and is also known as Abdul Kadir Galani. It draws both the Hindu and the Muslim pilgrims.