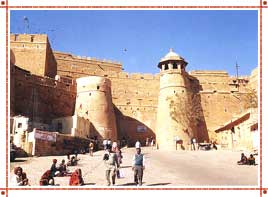 There are numerous monuments that serve as the tourist attractions of Jaisalmer. Some of the famous places to see in Jaisalmer are:
Jaisalmer Fort
Jaisalmer, Rajasthan sightseeing tour must include a visit to the Jaisalmer fort. Jaisalmer fort is the second oldest fort in the state of Rajasthan. It hovers on a 250 feet high hilltop, providing an amazing view of the vast desert below. The fort has five palaces namely, Sarvottam Vilas, Akhai Vilas, Gaj Mahal, Rang Mahal and Moti Mahal. Exquisitely carved jail screens were put up to protect the interiors of the palaces from the desert storms and sweltering heat. The arches and spandrels of the palaces have been painted with mesmerizing murals. The fort has four namely, Akhai Pole (Ganesh Pole), Suraj Pole, Bhuta Pole and Hawa Pole. There is also an umbrella, Meghadamber, perched on the highest point of the place that represents Lord Krishna.
Nathmal Ji Ki Haveli
Nathmal ji ki haveli was the result of the efforts of two architect brothers. Built in the 19th century, the haveli is an epitome of side-by-side symmetry. Standing as guards to the haveli are huge tuskers carved out of yellow sandstone. The attractions of the haveli include miniature style paintings adorning the walls on the inside.
Salim Singh Ki Haveli
Salim Singh was the Prime Minister of the princely state of Jaisalmer. The haveli is named after him only. It is located just below the hill. Built about 300 years ago, the haveli has an arched roof with carved brackets in the form of Peacocks. A portion of the haveli is still occupied. It is said that at one point of time the haveli had two additional wooden stories. It made the haveli as high as the Maharaja's palace. However, the maharaja got the upper story demolished.
Patwon Ji Ki Haveli
This five story high haveli is one of the largest and most intricate havelis in Jaisalmer. The haveli is beautifully and extensively carved. The haveli is divided into six apartments. Two apartments are taken over by Archaeological Survey of India, two by families operating craft-shops and two are converted into private homes. Some of the inside walls still contain paintings and mirror work.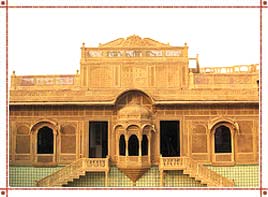 Tazia Tower
Some Muslim craftsmen constructed the Tazia tower to give as a gift to their royal benefactor. Rising from Badal Mahal (Cloud Palace), the five-tiered tower looks splendid. A skillfully carved balcony beautifies each story of the tower.
Gadsisar Lake
Gadsisar is an artificial lake built by Maharawal Gadsi in 14th century. This rainwater lake served as the main source of water for entire town at that time. The embankments of the lake house numerous small temple & shrines. The road to the lake has a beautiful gateway arching across it. It was built by a royal courtesan Tillon in the latter half of 19th century.