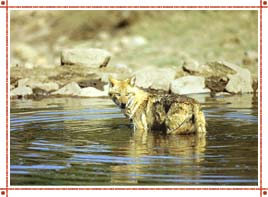 There are limited excursions around Mt. Abu, Rajasthan. A list of some Mount Abu excursions is given below:
Trevor's Tank
Trevor's tank is situated approximately 5 km from Mount Abu. It is named after the British engineer who got it constructed. The main attractions of the tank are the pigeons, peacocks and partridges that can be easily seen by the birdwatchers in the densely wooded hills nearby.
Achalgarh Fort
Located approximately 8 km from Mt. Abu is the Achalgarh Fort. Rana Kumbha got the fort constructed in the 14th century. It is mainly famous for some beautiful Jain temples enclosed inside it. Among all the temples, the significant ones include Achaleswar Mahadev temple (built in 1412 A.D.) and Kantinath Jain Temple (built in 1513 A.D.).
Guru Shikhar
15 km from Mount Abu is Guru Shikhar, the highest peak on the mount. It is approximately 1722 m above the sea level. The peak provides an amazing view of the environs of Mt. Abu. Other attractions of the peak include a small shrine and a temple of Dattatreya.
Mount Abu Wildlife Sanctuary
Mount Abu Wildlife sanctuary comprises of Aravalli, the oldest mountain range. Declared as a Wildlife Sanctuary in 1960, it has numerous places for sightseeing. The floral biodiversity of the sanctuary is quite rich starting with xenomorphic subtropical thorn forest at the foothills to subtropical evergreen forest along watercourses and valleys at higher altitudes. 112 plant families with 449 genera and 820 species fill up the sanctuary. Some of the 3 species of wild roses and 16 species of feras seen here are quite rare. In the southwest area, the sanctuary abounds in bamboo forests.