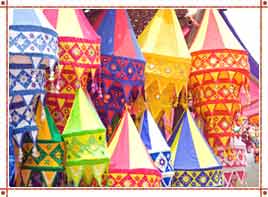 This Mount Abu shopping guide will tell you about the various shopping places and popular shopping items of the city. Tourists who come to see the beautiful Dilwara temples, also visit Mount Abu shopping destinations to take home momentos and souvenirs for their loved ones. Out of all the shopping places in Mt. Abu, Rajasthan, the most famous one is the market around Nakki Lake, called Nakki Maal.
Following is a list of some of the famous items that you can shop for in Mount Abu:
Jewelry
Fabrics
Wooden articles
Gemstones
Metal crafts
Leather ware
Kota saris and apparels
Rajasthani bangles
Sanganeri prints in linen
Curios (made from marble, sandalwood and sandstone)
Apart from these, there are also a number of other Rajasthani handicrafts available in the Mt. Abu markets.