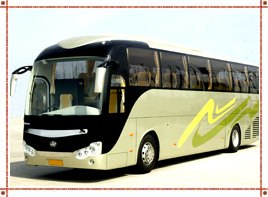 Ranthambore is an important destination on the wildlife map of India. Situated about 11 km from Sawai Madhopur town, the national park is known for a variety of species of birds and animals, but the main attraction here is, of course, the tiger. In fact, it is the excitement and adventure of watching tigers in their natural habitat that draws tourists from all over the world, to Ranthambore. Other attractions at Ranthambore include Jain temples, Falna, Sadri and Ghanerao. In case you are planning to come to Ranthambhore soon, go through the following lines and know how to reach the place.
Traveling to Ranthambore
By Air
The nearest airport from Ranthambore is Jaipur, which is about 176 km away and constitutes a four-hr drive. An important domestic airport, it is connected with all the major cities of India, such as Delhi, Mumbai, Bangalore, Kolkata, Hyderabad, Chennai, etc. For instance, Air India Express, Air India Regional, GoAir, Jet Airways & Kingfisher Airlines provide direct flights between Delhi and Jaipur. Regular bus services are available from the airport. You can also hire taxi to reach Ranthambore, from the place.
By Rail
The nearest railhead from Ranthambore is provided by Sawai Madhopur, which is approximately 15 km away. There are many trains that link Sawai Madhopur with cities like Jaipur, Agra, Delhi, etc. The Kota Janshatabdi and August Kranti Rajdhani connect the city with Delhi and Bombay Central-Jaipur Express links it with Mumbai.
By Road
Sawai Madhopur is the nearest town from Ranthambore, about 11 km away. You can easily get buses as well as taxis for reaching the place from Delhi (434 km), Jaipur (176 km) as well as Agra (265 km). For traveling to Ranthambore from Jaipur, by car, you will have to take NH12 till Tonk, via Sanganer and then switch over to the state highways to go to Ranthambhore, via Uniara and Sawai Madhopur.