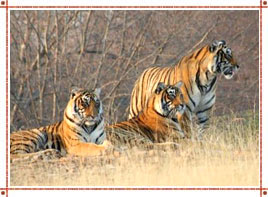 Ranthambore National Park was established in the year 1957, as a wildlife sanctuary. It was only in the year 1981 that it was awarded the status of a national park. Today, Ranthambore boasts of being one of the most visited national parks in the whole of India. Situated in the Sawai Madhopur District, at the junction of the Aravalli and Vindhya hill range, it serves as the abode of the king of the jungle, tiger. Apart from that, you can find a large variety of animals, birds and reptiles in the park. In this article, we will help you explore what to do and see in Ranthambore.
Fun Activities to Do in Ranthambore
Wildlife Viewing
Ranthambore National Park is renowned for being home to a rich and varied wildlife. The most popular attraction of this park comprises of its tigers, followed by leopards. Apart from that, you can also spot leopards, striped hyenas, nilgai, macaques, black bucks, rufous tailed hare, Indian porcupines, small Indian mongoose, Indian false vampires, Indian flying foxes, etc. Then, it houses a population of snub nosed marsh crocodiles, desert monitor lizards, tortoise, banded and common kraits, cobras, Indian pythons, north Indian flap shelled turtles, rat snakes, Russellís vipers, and saw-scaled vipers, as well.
Bird Watching
Ranthambore Wildlife Sanctuary is considered to be a bird watchers paradise. This is because it approximately 272 species of birds, both resident and migratory, can be seen in the park. Some of the most popular species include graylag goose, woodpeckers, Indian gray hornbills, common kingfishers, bee eaters, cuckoos, parakeets, Asian palm swift, owl, nightjars, pigeon, dove, crakes, snipes, sandpipers, gulls, etc. Malik Talao, the Ranthambore Fort, Rajbagh Talao, Padam Talao and the Jhalra area are the areas in Ranthambore that are best suited for bird watching.
Hot Air Ballooning
Ranthambore is one of the places in Rajasthan where hot air ballooning takes place. As you fly miles above the wildlife sanctuary, the lush greenery scenery surely takes you by surprise. The balloon ride also provides you with an opportunity to take some of the best photographs of the wild animals as well as birds, from above, suspended in mid air. Majority of the hot air balloon flights in Ranthambore take off from the helipad on the arterial road. However, you can also take a flight from Ranthambore Road, Madhopur, or any other destination.
Jungle Safari
One of the best ways to explore Ranthambore is through a jungle safari, which takes you as close to the wildlife as possible. It is undertaken on open-roofed canters (small trucks), which can seat 20 people at a time. These canters move on a network of four tracks that crisscross the park. Apart from that, you can also go on a jeep safari. At any given time, a maximum of three open jeeps are allowed on each trail.
Exploring Heritage
Apart from being home to a large number of wild animals as well as birds, Ranthambore National Park is also known for housing a historical monument i.e. Ranthambore Fort. Situated atop a hill, the fort is one of the best places to have a view of the entire park. It presents an architectural and historical wonder and is best visited on foot. Another attraction of the park is Raj Bagh Ruins, located between Padam Talab (lake) and Raj Bagh Talab. It includes ancient stone structures, like arches, palace outhouses, domes, and steps, all in ruins now.
Tips
Ranthambhore Wildlife Sanctuary remains open every year from October to Mid June. So, make sure to plan your trip during this time only.
From October to March, the sanctuary is open from 6.00 am to 9.00 am and 3.00 pm to 6.00 pm. From April to June, you can visit from 6.30 am to 9.30 am and 3.30 pm to 6.00 pm.