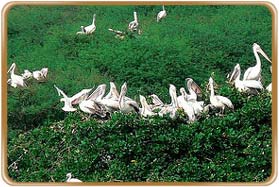 Vedanthangal, the oldest bird sanctuary in India is one place, which can't easily fade off from one's memories. The sanctuary is an amazing place to be in, especially during the Sunset, as you can spot thousands of birds returning to their nests and dotting trees. You can spot several species of birds of which most are migratory. The trees are dotted with numerous nests, which contain little chicks and eggs. For over two hundred years the villagers around have zealously protected the birds in this sanctuary. It is interesting to note that the villagers protect the birds with the same zeal, which their forefathers had shown. They avoid any noisy activity near the bird sanctuary.
At the time of Sun set the whole sanctuary is abuzz with activities and noise of birds. Birds can be seen bringing in foods for their chicks, which in turn insert their tiny beaks into the mouths of their parents to find food. If the bird watcher in you becomes over excited then there are forest officials and boards to satiate your bird related knowledge. Some of the birds that visit the bird sanctuary every year are Grey Heron, Cormorant, Egrets, Darter, Open-billed Stork, Spoonbill, White Ibis, Grebes, Night Herons and Grey Pelican. In all, around 115 species of birds have been recorded at the Vedanthangal bird sanctuary.
How to Reach Vedanthangal Sanctuary
Air
The nearest airport is Chennai, which is 58 km away.
Rail
The nearest railhead is Chengalpattu, which is 30 Km away.
Road
Regular bus services are available from Chennai, Tambaram and Chengalpattu.