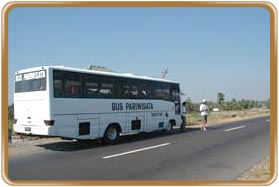 You can reach this picturesque southern most tip of Indian peninsula by air, rail and road. You can choose any of the modes as per your requirement.
By Air
The nearest airport from Kanyakumari is situated at Trivandrum about 80 kms away, which is connected with Bangalore, Mumbai, Cochin, Delhi, Goa, and Chennai by regular flights.
By Rail
This southern most extreme of India is well connected by rail to major parts of the country. Broad gauge railway network connects Kanyakumari to Thiruvananthapuram, Delhi, and Mumbai. Super fast trains connect Kanyakumari with northern cities like Jammu and Delhi. Tirunelvelli, situated around 80 kms away from Kanyakumari is the other nearest railway junction and can be reached by road via Nagarkoil (19 km).
By Road
Extensive road network connects Kanyakumari to Nagarkoil (19 km), Tirunelvelli (91 km), Tiruchendur (89 km), Tuticorin (129 km), Rameshwaram (300 km), Courtallam (130 km), Madurai (242 km), Thekkady (358 km), Kodaikanal (362 km), Palani (370 km), Ootacamund (576 km), Cochin (309 km), and Coimbatore (478 km).
Local Transportation
The city has tourist vehicles and intercity trains, running from almost all the southern cities, which ensure an easy and efficient mode of transportation for both inter and intra city travel.