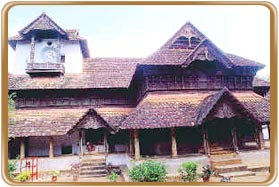 The Padmanabhapuram Palace is one of the most magnificent monuments of Tamilnadu. It is situated in Kanyakumari district, 15 km from Nagercoil and 55 km South-West of Thiruvananthapuram. The Padmanabhapuram palace was the seat of power of the rulers of Travancore. The palace is known for its planning and military architecture and remained the center of power till 1790, when the capital was shifted to Thiruvananthapuram. The main attractions of the Padmanabhapuram Palace are its sheer aesthetic beauty, murals, innovative designs and time tested wooden carvings.
The palace bears testimony to the architectural excellence reached in this region and commands admiration and awe from the visitor. The exact year of the construction of the fort is shrouded in mystery and it is believed that the fort was built in 1601 A.D. As you enter the Padmanabhapuram palace, a brass lamp hanging from the magnificently carved wooden ceiling greets you. It is interesting to note that the ceiling of the palace has 90 varieties of flowers. A17th century black bed of seven granite stones is housed in the hall of the Padmanabhapuram palace. The walls of the Padmanabhapuram palace have wooden planks, which depict "Anantasyana", Lord Vishnu in reclining posture.
The Council Chamber of the Padmanabhapuram palace is an example of excellence in wood and inspires awe. The floor, which is made up of a mixture of burnt coconut shells, laterite, lime and sand shines to this day. Martanda Verma built the King's quarters in 1744 A.D. It is also known as "Upparika malika". The courtyard, which leads to this building served as a parade ground for recruiting soldiers for the army. There are about 50 murals, depicting Lord Vishnu with his consorts and Lord Krishna with the Gopis, adorn the walls of the prayer hall. There are several paintings, depicting incidents in the life of Martanda Verma, displayed on the corridor leading to the guesthouse. Navarathra Mandapam, an imposing granite structure, is probably the most beautiful part of the Padmanabhapuram palace.
When you come out from the gates of the palace into the open, you get this strange feeling of having relived history and leave Padmanabhapuram with a bit of history with you.
How to Reach Padmanabhapuram
By Road
Padmanabhapuram is a two-and-a-half hour drive from Thiruvananthapuram on the highway to Kanyakumari. The Kerala Tourism Development Corporation runs a daily tour to Kanyakumari that stops at Padmanabhapuram. You can also hire a cab from Thiruvananthapuram.
By Rail
The nearest railway station from Padmanabhapuram is at Nagercoil, 15 Km away.
By Air
Nearest airport is Thiruvananthapuram, 6 km from Thiruvananthapuram city. There are flights to Gulf, Europe, USA, Sri Lanka, Maldives etc and Indian cities like Delhi, Mumbai, Chennai (Madras), Bangalore and Cochin.