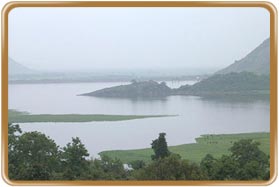 The area around Kodaikanal falls in the Nilgiri Belt and thus offers lots of natural wonder to explore. Therefore there is no dearth of excursion destinations around the city of Kodaikanal. The excursion destinations are normally a single day affair apart from Madurai that will require a whole day alone to explore it properly. Following are the some of the famous excursion destinations around Kodaikanal.
Madurai
Situated just 120 kilometers from the Hill town of Kodaikanal, Madurai is a must visit destination. The city has remained the capital of Cholas as well as Pandayas for a brief period of history and that is why it has many beautiful monuments and temples to explore. The best among these are the famous Meenakshi and Tirumalai Temples.
Dolphin's Nose
Dolphin's Nose is located about 10 kilometers from the downtown Kodaikanal. It is a flat projecting rock from where you can have a breathtaking but intimidating view of the chasm below. The place is best for the photographers to click good pictures.
Perumal Peak
The Perumal Peak is about 11 kilometers from Kodaikanal. The place is considered a trekker's delight in Nilgiris. Climbers begin their ascent from the Neutral Saddle and cover the entire distance in around 4 hours. No permission is required for trekking to Perumal Peak.
Berijam Lake
Berijam Lake is just 25 kilometers from the city of Kodaikanal. This beautiful lake supplies drinking water to Periyakulam, an adjoining town. It is a popular picnic spot with beautiful views that has a craze among the kids.
Kukal Cave
Kukal Cave is situated at a distance of 40 kilometers from Kodaikanal. The place serves as a camping site for trekkers. The place is great to view stalagmites and steatites.