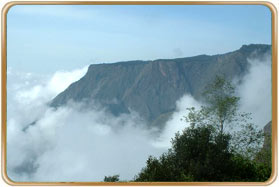 Min Temperature: 10
0
C (Summer), 8
0
C (Winter)
Max Temperature: 20
0
C (Summer), 17
0
C (Winter)
Best Time to Visit: April To June & September To October
The weather of Kodaikanal is pleasant throughout the year, but the best time to visit Kodaikanal is from April to June and from September to October. This is when the weather is at its best. The average temperature during these months remains around 20
0
C to 10
0
C.The winter sets in mid-October. The maximum temperature in winters is about 17 degree C and the minimum temperature dips as low as 8 degree C. The months between October and March are wet and chilly. These months are completely avoidable unless of course, you want adventure. In the month of January ice formation is witnessed by Kodaikanal and the minimum temperature plummets to freezing point.
The summer season is the best to visit Kodaikanal. The average temperature hovers around 18
0
C, which makes Kodaikanal a place to enjoy. July witnesses the onset of monsoon that persists till August end. These months are completely avoidable too, as the hills become extremely slippery and inaccessible. Moreover, heavy rainfall can also restrict tourist activities. September is a good month to visit Kodaikanal as the weather is quite pleasant.