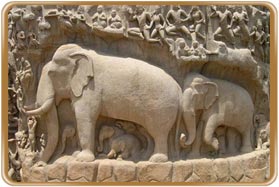 Mamallapuram, popularly known as Mahabalipuram is famous for its splendid 7th and 8th century art and architecture, especially the stone carvings. The monolithic rock sculptures, shore temple, carvings and wonderful beaches make Mahabalipuram a beautiful tourist destination. The Arjuna's penance is one of the most famous stone carvings at Mahabalipuram. It is an enormous relief made on two massive boulders. One of the biggest open-air rock canvases in the world, the Arjuna's penance is 31m long and 9m high. The surface of the rock has detailed carvings, showing the most endearing and natural renditions of animals especially the elephants and monkeys.
There are many schools of thoughts over the theme of Arjuna's penance. One school believes that the sculpture shows Arjuna undertaking a penance to obtain a rare weapon against his enemies. The other School believes that it portrays the legend of the River Ganges's descent to earth. Whatever the reasons, Arjuna penance remains one of the most beautifully carved structures at Mamallapuram. Arjuna's Penance has over 100 figures of gods and semi divine creatures, birds and beasts, man and saint.
The skillfully carved edifice, Arjuna's penance, is named after the Mahabharatha hero, Arjuna. As mentioned above, the subject of the carving is either how Arjuna, one of the Pandava brothers, performed severe austerities so that he could obtain Lord Shiva's weapon to destroy his enemies or an illustration of how King Bhagiratha brought the River Ganges down to earth so that the souls of his ancestors could rest in peace. The relief also contains some of the popular legends from the Panchatantra books. The figures that are sculptured on the rock are remarkable for their vitality and spontaneity and speak volumes about the skill of the sculptors.
How to Reach Mahabalipuram/ Mammalapuram
Air
Chennai is the nearest airport from Mahabalipuram, located around 60-km away. You can get flights for almost all major destinations in India and abroad.
Rail
The nearest railway station is Chengalpattu, around 29-km away from Mahabalipuram. You can easily get trains for Chennai and several other major cities in South India.
Road
Mahabalipuram is well connected by road to Chennai, Kanchipuram (65-km), Pondicherry and other towns and cities of Tamilnadu.