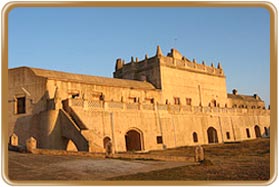 Situated at the estuary of River Kaveri, Poompuhar was an ancient port of the Cholas. Poompuhar is also known as Kaveripoompattinam. The city has many relics and monuments belonging to the Chola era and after. Some of the most important tourist attractions are as follows: -
Silappathikara Art Gallery
A beautiful seven-tired building of great sculptural value has been built as Sillappathikara Art Gallery. The 'Magara Thoranavayil' at the entrance of the Art Gallery imparts an imposing and beautiful look to the whole structure. Its height is 22½'. It has been designed on the pattern of Magara Thorana Vayil. Scenes from Sillappathikaram, the Epic of the land have been given lively shapes in stones on the walls of the Gallery.
Zion Church
The Dutch settlers built Zion Church in 1701. The British renovated in 1782-84 and again in 1839 the Church. It is still in good condition and you can appreciate the Dutch architectural design of the renaissance era that is very evident in its construction.
Town Gateway
It was built in 1792 on Danish Architectural style. The design is typical of the gateways that were built in Europe during the renaissance period. The British built this gateway but it bore a Danish architectural style probably because of some Danish architect employed by them.
Danish Fort
Danish Fort that was built as early as 1620 A.D is the masterpiece of the Danish architecture in India. The fort is in perfect condition till now and most of the decorations and carvings are still prominent. The Fort is now under the control of Tamilnadu Archaeological Department and houses an archaeological Museum.
Masilamani Nathar Koil
This temple built in 1305 by Maravarma Kulasekara Pandiyan exhibits outstanding architectural skills. The front portion of the temple has been partly damaged due to Sea-erosion but is still worth watching. The religious activities in this ancient temple have been discontinued long ago.
Danish Governor Bungalow
This building gets its name as it was used as the residence of the Danish Governor. Built in the year 1784, it is the biggest building in Poompuhar. The building houses the office of Tamilnadu Tourism Department.
How to Reach Poompuhar
By Air
The closest airport from Poompuhar is Thiruchi. Air Lanka and Indian Airlines operate services to Sri Lanka from Trichy. The air service to Madurai, Chennai and other important cities of India is operated by all the major airlines in India.
By Rail/Train
Thanjavur, the district headquarter is connected to towns/cities like Thiruchi, Chennai and Nagore. Chennai is connected to all the major cities in India by railways.
By Road
Bus services are available from Thiruchi, Nagore and Chennai for Thanjavur. Various interstate buses also ply from Tanjore.