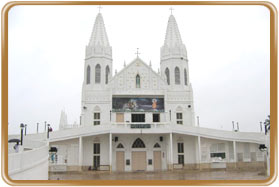 Velankanni is one of the most taken pilgrimages in India. Situated amidst shores of Bay of Bengal, Velankanni is a picturesque town. The city is famous for the shrine Basilica that is dedicated to 'Lady of health'. The shrine draws pilgrims from all faiths and from all over the world. It has not came as a surprise that the Pope has declared Velankanni, a holy city.
This Roman Catholic Church has an extended Basilica, which has two floors where one can find the statue of Jesus Christ. The Gothic style of architecture is a unique feature of the Church. The environment around the shrine is spick and span, radiating rays of hope and piety. There is also a shrine of 'lady of sorrow' where in the sorrowing Mother is depicted carrying infant Jesus in her hand.
A museum is situated opposite to the Basilica. The museum has a very rich variety of exhibits. The precious offerings made by the devotees are also on display here. Biblical incidents are depicted on both sidewalls with beautifully produced frescos. The annual carnival is celebrated here with all pomp and gaiety every year on August 29th.
How to Reach Velankanni
By Air
Nearest airport is Tiruchirappali that is 165 kilometers. It is well connected to rest of India.
By Rail/Train
Nearest railway station is Nagapattinam that is near about 12 kilometers. Nagapattinam in turn is well connected to all major cities in India via Chennai and Tiruchirapalli.
By Road
Velankanni is connected to all the major towns and cities in and around Tamilnadu. Regular bus services are available to Chennai, Madurai, Trichy, Kanyakumari, Thanjavur and Pondicherry etc.