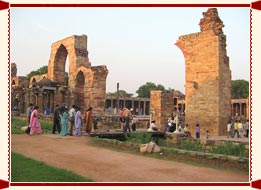 The excursions around Allahabad are no less interesting than the city itself. All of these excursions are within the range of 60-70 Kilometers and thus don't need an overnight stay. All these places can be traveled in a single day by hiring a cab or an auto. Following are some of the most frequented excursions around Allahabad: -
Grahwa
Garhwa is an interesting excursion destination around Allahabad. In fact, Garhwa is a must visit tourist spot during your tour to Allahabad. The place is famous for the ruins of some of the most beautiful temples in Purvanchal. The place has not been at the helm of the matter but slowly and steadily, it is picking up in the hot list. In fact, Garhwa is a must visit for both researchers as well as casual visitors. Historians and researchers who are working on ancient North Indian temple architectures or Gupta era temples for that matter must visit this place. Garhwa will give a different insight about this architecture tradition altogether.
Kaushambi
Kaushambi is an interesting tourism excursion that is situated 65 Kilometers from the city of Allahabad. It falls on the on your right as you move towards another popular religious destination, Chitrakoot. The place is counted among the hottest Buddhist tourism destination in India. Kaushambi is an ancient Buddhist center that is known as Kosham in the chronicles of history. The place was once the capital of King Udaya who was a contemporary of Lord Buddha.
Shringverpur
Shringverpur is a must visit excursion destination around Allahabad. The place is located 40 odd kilometers from Allahabad. Shringverpur is an otherwise sleepy village that is gaining prominence slowly and steadily. Though, the place has been mentioned at length in the epic Ramayana. Shringverpur is mentioned as the capital of the famous kingdom of Nishadraj or the 'King of Fishermen'.