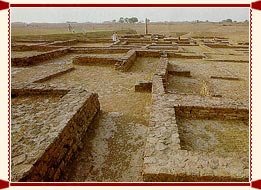 Kaushambi is an interesting tourism excursion that is situated 65 Kilometers from the city of Allahabad. It falls on the on your right as you move towards another popular religious destination, Chitrakoot. The place is counted among the hottest Buddhist tourism destination in India. Kaushambi is an ancient Buddhist center that is known as Kosham in the chronicles of history. The place was once the capital of King Udaya who was a contemporary of Lord Buddha.
The place has a wink and miss mention in epic Mahabharata too. The king of the then Kosham is said to have aliened with Kaurvas in their fight for throne. The texts, though fail to summarize anything more than that. Nevertheless, the city has always remained a focal point in Buddhism. It is said that Lord Buddha, the Enlightened One, have had a couple of sermons at Kaushambi. The place has risen to prominence since then.
There is a huge fortress in Kaushambi too. The circumference of this huge fortress measures more than 6 kilometers in length. The place also has ruins of an Ashoka Pillar. The pillar is in depleted state therefore it is very difficult to find any edict that is pre-Gupta. Most of the edicts that have been deciphered and are still readable belong to the Gupta period and after.
Lord Buddha is believed to have visited Kaushambi twice to deliver discourses. The ruins of an ancient fort bear witness to the antiquity of the place. There are also remains of a monastery that is considered to be at least 2000 years old.