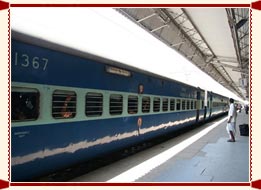 Allahabad is an important pilgrimage destination in the Ganges plain and that is why it is well connected to all the major cities in Uttar Pradesh and India. The Kumbh Mela that takes place on its confluence is attended by millions of Hindus round the globe.
By Air
There is no air link to Allahabad presently. The nearest Airport is at Varanasi that is 150 kilometers from Allahabad. Varanasi being another important pilgrimage is well connected to the rest of India by daily flights. Both private as well as public carriers operate these flights.
By Rail
Allahabad is well connected by trains with all major cities, viz. Calcutta, Delhi, Jaipur, Lucknow and Mumbai. The main station in Allahabad is Allahabad Junction. Several expresses as well as super fast trains ply to and from Allahabad.
By Road
Allahabad, on National Highways 2 and 27, is connected to all parts of the country by good roads. Buses ply to all the neighboring as well as far-flung places such as Varanasi, Lucknow, Kanpur, Patna, Jhansi and Gorakhpur among others. Both Uttar Pradesh State Road Transport Corporation as well as Private players operates these buses.