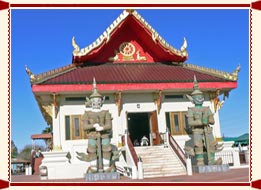 Kushinagar is one of the most frequented Buddhist pilgrimage destinations in the Indian Sub-continent. The city has lots to offer when it comes to Stupas and Temples. Almost each and every corner of the city has some or other famous tourist attraction. While most of these sites are old, there is a sizable number modern architecture too.
Ramabhar Stupa
Ramabhar Stupa can be counted as one of the most sacred shrine of Buddhism in the world. Situated just a kilometer off from the city center, Rambhar Stupa is a must visit for every tourist flocking India. Ramvara Stupa is said to mark the site where Lord Buddha was cremated and got Mahaparinirvana. Kushinagar is a place that has been frequented by Lord Buddha. There are sources, which confirm that Lord Buddha had many discourses at this place.
Nirvana Temple
Nirvana Temple is one of the most frequented amongst Buddhism shrines in the world. Nirvana Temple is a must visit destination during tour to India. The place evokes emotion for every Buddhist because it is the same temple near which, Buddha died. Nirvana Temple houses a statue of reclining Lord Buddha that is 6 meters long. It is believed that this statue represents the very last moments of Lord Buddha i.e. moments before he attained Mahaparinirvana.
Mathakaut Temple
Mathakaut Temple is one of the most famous and most visited shrines in Kushinagar. The Mathakaut shrine is situated at the distance of 300 meters from Maha-Parinirvana Stupa, another famous Buddhist shrine in Kushinagar. The place is famous for because this is the site from where a black stone image of the Buddha in the 'Bhumi Sparsha Mudra' was recovered during early excavations. 'Bhumi Sparsha Mudra' in Hindi means 'Kneel Down Posture'. It is widely perceived that the last sermon of Lord Buddha was given here.
Watt Thai Temple
Watt Thai Temple is one of the most beautiful and most visited temples in Kushinagar. Watt Thai Temple is only one of its kinds not only in Kushinagar but also in whole of Indian Sub-continent. The temple is centrally located in Kushinagar and that is why it can be seen from anywhere and everywhere in Kushinagar. The Temple has been laid out on a lush green lawn that is spread in several acres of land.
Japanese Temple
Japanese Temple is one of the most beautiful temples in Kushinagar. This is a must visit site during your tour to Kushinagar. A magnificent 'Ashta Dhatu' or 'Eight Metals' statue of Lord Buddha marks this temple. This statue has been brought from Japan in dismantled form and was later joined before it was established in this temple.
Chinese Temple
Chinese Temple is another fairly frequented tourist destination in Kushinagar. The temple is famous for its distinct architecture that puts it away from the numerous Buddhist Temples in Kushinagar. The architecture of this temple is predominantly 'Han Chinese' and has design elements that have been borrowed from various provinces of Mainland China