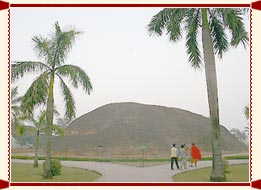 Ramabhar Stupa can be counted as one of the most sacred shrine of Buddhism in the world. Situated just a kilometer off from the city center, Rambhar Stupa is a must visit for every tourist flocking India.
Ramvara Stupa is said to mark the site where Lord Buddha was cremated and got Mahaparinirvana. Kushinagar is a place that has been frequented by Lord Buddha. There are sources, which confirm that Lord Buddha had many discourses at this place. It is also mentioned in numerous Buddhist as well as Brahmin sources that Lord Buddha attained Mahaparinirvana in this city only.
Ramabhar Stupa, rising more than 50 feet in height, stands on a mound facing the road that joins Kushinagar with Deoria. It has been built to mark the actual cremation site. In the ancient Buddhist texts this Stupa has been referred to as Mukut-Bandhan Vihar. There is a sheet of water, called Ramabhar Jheel or pond, close to it that dries up in summer. Whether the name Ramabhar originally belonged to the pond or to the mound is difficult to say; nor can it be satisfactorily derived or its relation to the events of Buddha's death easily explained.