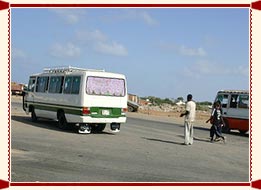 Kushinagar is one of the most famous tourist destinations in Buddha circuit and is frequented by scores of people every year. The place is hot on the tourism map and thus well connected to the rest of India.
By Air
The nearest airport is Gorakhpur that is 45 kilometers from Kushinagar. Gorakhpur don't have regular flights from the rest of India therefore it is advisable to opt for other transportation.
By Rail/ By Train
The nearest railhead or station is Gorakhpur Junction that is 51 kilometers from Kushinagar. Gorakhpur is the headquarters of North Eastern Railways and linked to important destinations. Gorakhpur is connected directly to cities like Mumbai, Delhi, Cochin, Barauni, Kolkata, Lucknow, Agra and Jaipur among others.
By Road
Kushinagar is situated on the National Highways 28 and therefore is well connected with other parts of the state. Buses ply to all the neighboring as well as far-flung places such as Varanasi, Lucknow, Kanpur, Patna, Jhansi and Gorakhpur among others. Both Uttar Pradesh State Road Transport Corporation as well as Private players operates these buses