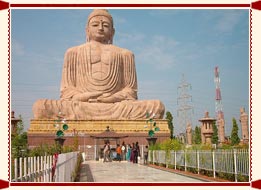 Kapilvastu is located 27 kilometers south of Lumbini close to Siddhartha Nagar district of Uttar Pradesh. The place is close to both Lumbini as well Shravasti. The place has now been christened Piprahwa.
Kapilvastu is a prime archeological site and that is why it is one of the most frequented tourist destinations in Nepal. Though very little remains of what was once a flourishing town, the place is a must visit. The place has the ruins of the palace where Lord Buddha spent his formative years. The archeological works that had been done in this area had to pass through various roadblocks including financial constraint. The archeologists had dug out as many as 14 different layers of human habitation in this area. The oldest among these dates back to 8th century before Christ. The place is a must for archeological and historical buffs.
Kapilvastu was the capital of the Shakya Household where Lord Buddha was born to king Shuddhodhana. He grew up amidst luxury and shunned away from miseries of life. But one day he broke out the luxurious entrapment of his father and set out for a journey. The place is important to visualize the pre meditation, princely days of the Lord who had contributed much to humanity by giving up his own luxury and princely status.
There are many Stupas scattered around the place, built by Ashoka and the Gupta Kings. The symbols left behind by the Shakya dynasty is clearly visible here; moreover, there are relics of Lord Buddha himself.