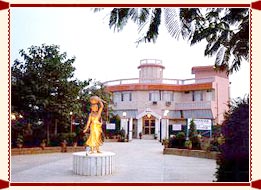 Gokul that lay 16 odd kilometers from the city Mathura has an importance of its own in the story of Lord Krishna. Gokul is famous as a town where infant Krishna was brought up in secrecy in the home of his foster mother, Yashoda. The story goes that Vasudeva, the father of Krishna secretly exchanged Krishna with the infant daughter of Nanda and Yashoda in order to save him from almost imminent death from the hand of Kansa, his maternal uncle. Lord Krishna spent his childhood and adolescence in Gokul only. During his stay at Gokul, Krishna spent his time in fun and frolic, though he his life did come under threat a few times.
Gokul is also famous for various acts of Krishna such as slaying Putana, a demon who came to kill him and subduing 'Kalia' serpent by dancing on his hood. Few of the amorous acts of Krishna were also performed in Gokul. In fact it was at Gokul that Krishna met Radha, his lifelong love whom he never married.
The most important temple is Gokul Nath Ji. Gokul is particularly famous for the distinct style of celebrations of festivals like Janmashtmi, Annakut and Trinvat Mela. There is a place in Gokul called 'Raman Reti' where people roll over the sand to ask the blessings of Lord Krishna. Gokul was also popularized as the seat of Ballabhacharya, a scion of 16th century Bhakti movement.