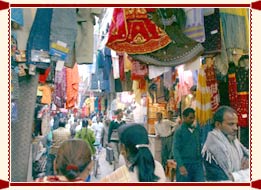 Mathura is a religious town and has a very little or no commercial activity besides religious tourism. Even most of the shops sell items that are primarily used either to perform rituals or as offerings. The city though offers a few items to shop for.
Mathura is famed as the city of cowherds and it stands true to its reputation. Milk products are something that can be brought from here. A sweetmeat called 'Peda' made of overly boiled milk is a must. Varieties of Peda are available in Mathura, we suggest, go for 'Kesharia Peda' that have generous dose of saffron in them. Another milk product called 'Khurchan' has a craze in Mathura. These are a semi-liquid variety of 'Peda' but are not made out of synthesized milk as 'Pedas' are.
Nowhere in India will you find 'Ghee' as pure and aromatic as Mathura. Buy a small can if you want to have the 'taste of India'. Other items such as sweetmeats, cheese and cheese-spreads can also be bought.
Mathura is basically a pilgrimage town; therefore it offers lots of ritual and religious paraphernalia to the visitors. Small 'Astadhatu' busts of Hindu deities are a must buy. They are costly but a treasure worth keeping. Other items such as Rosary beads, Brass statues and utensils for worship are available at Bengali Ghats, Chatta Bazaar and Chowk.