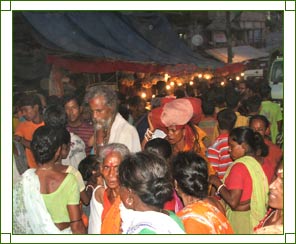 Location:
Kamakhya Temple, Guwahati
Time of Celebration:
Mid June
Highlights:
Dedicated to Ma Kamakhya (Ma Kamrupa)
The fairs in Assam, as in any other part of India, are associated with religious ceremonies in the temples. The most popular among these is the Ambubachi Fair. Celebrated in the urban area of Guwahati, it is the most important fair of the state, which revolves around the Kamakhya temple. Situated on top of the Nilachal hills of western Guwahati, the temple is one of the most important Shakti shrines in the entire country. The residing Goddess of the temple is known as Ma Kamakhya or Ma Kamrupa.
Ambubachee Mela takes place during the month of Ahar (according to the Assamese calendar) i.e. around the middle of June, when Ma Kamakhya is worshipped in the form of a yoni (uterus)-like stone, over which a natural spring flows. The fair is, in fact, the worship of the female process of menstruation. It is believed that during these months, the creative and the fostering power of the 'menses' of Mother Earth becomes available to devotees at this site. The temple remains closed for 3 days, as the Goddess is considered impure during these days.
On the 4th day, the deity is bathed to regain purity and many rituals are performed. It is only after this that the doors of the temple are opened to the devotees. Mythology has it that after the death of His beloved Sati, Lord Shiva was in great distress and while flying through the skies, dropped her body parts on the earth. The area where her yoni settled is called as Kamakhya. At the time of fair, the blessings of the Goddess come in mainly two forms - the fluid part of her body (Angadhak) i.e. the water from the stream and the cloth covering her body (Angabastra) during the time of menstruation. Thousands of devotees and tourists line up every year to get a glimpse of the Goddess.