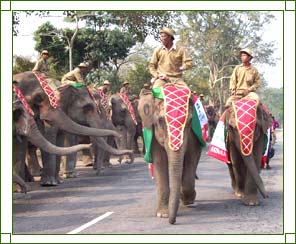 Location:
Kaziranga National park, Assam
Time of Celebration:
February
Highlights:
Rows of groomed elephants taking part in various activities
The Asiatic elephant (Elephas maximus) is the biggest terrestrial animal, with a huge population in Asia. In India, herds of the animal can be found spread across the following landscapes - Karbi Anglong and Kaziranga landscapes in Assam, the northern bank of Brahmaputra and the Eastern Ghats of the Nilgiris. Due to the increasing human-elephant conflict and poaching, there has been a significant reduction in the number of Asiatic elephant and they are fast approaching the precinct where they will be labeled as 'Endangered Species'.
In an attempt to conserve and protect the exclusive species that we know as Asiatic elephant, the northeastern state of Assam organizes an annual festival every year, at the Kaziranga National Park, known as Elephant Festival. This is joint operation by the Forest Department and Tourism Department of the Government of Assam, to increase awareness about preserving the species. Apart from that, the festival also promotes tourism within the state.
The highlights of the festival are the elephants themselves. Groomed from head to toe, herds of elephants are made to parade the entire ground, as a part of the celebrations. The other attractions include games like elephant races, throw ball etc. The spectators are awestruck at this amazing sight and look on, feeling privileged and honored to be part of such an incredible experience. Indeed, the festival is an opportunity for tourists to get a taste of the local Assamese culture and traditions.