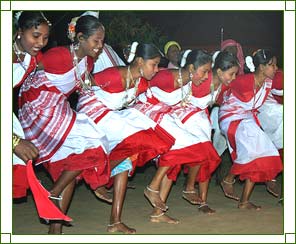 Location:
Jorhat district, Assam
Time of Celebration:
Winter season (between November and January)
Assam is known all across the globe for the production of the famous black tea. In fact tea has almost become a brand-identity for the name Assam. Total tea production in the state is around 400 million kg per annum, which accounts to 50% of the total tea production of India. The district of Dibrugarh, on the banks of the river Brahmaputra, in upper Assam, is the largest tea exporting town in India. Hence, it has been rightly given the name of the Tea City of India. The Tocklai Tea Research center is located on the banks of the river Tocklai in Jorhat, another tea province of Assam. It is at Jorhat that the Tea Festival of Assam is celebrated every year.
Tea Festival is held every year, during the winter season i.e. between the month of November and January. The festival comes across as an exquisite blend of pleasure and work. Conferences are held to address the current issues of the tea industry and delegates from different parts of the world come to attend them. Besides this, there are ample opportunities to enjoy the scenes and sights of the region. Ethnic fairs and food fests are held, tours are made to the various tea heritage sites, and people take part in a number of adventure sports, like rafting and angling.
Assam Tea Festival also brings along the time to enjoy some golfing in the 'Jorhat Gymkhana', which is the world's third oldest golf-club that is still in use. While in Assam, for the festival, a visit to the biggest tea auction center in Guwahati is a must. The Assamese people are known for their hospitable nature and this is best revealed during the festive time. Amidst fun and gaiety, the days of the festival are spent by the locals and the tourists alike, leaving behind a host of sweet memories in the sands of time, to be cherished for days to come.