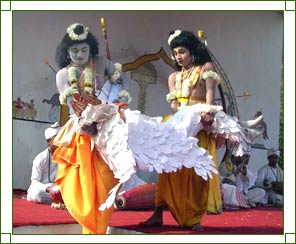 Location:
Garamur, 1.5 km from the sub-divisional headquarter of Majuli
Time of Celebration:
During the winter season, mostly November
Highlights:
Food fests and exhibition of local Assamese products
Majuli festival is celebrated in the district of Majuli, which is the biggest river island in the world. It also serves as the center of Assamese civilization and is home to the Neo- Vaishnavite culture, for which the state is very renowned. The region is also the melting pot of a number of tribes and races, each of which has its own distinct customs and traditions. However, despite the difference in their ethnicity, all of them live in perfect peace and harmony - a unique trait seen only in this part of the world. The island has a large number of monasteries or Satras, which represents its Neo-Viashnavite culture.
The Majuli festival puts forward the exclusive Neo-Viashnavite culture of the Majuli region in particular and of Assam as a whole. It is celebrated at Garamur, located at a distance of 1.5 km away from the sub-divisional headquarter of Majuli, on the banks of the river Luit. The festival lasts for a total of 4 days. During these days, people from all over the country come to see as well as be a part of the Majuli festival. Cultural events are held throughout the day and people from within and outside Assam come to participate in these events.
Artists and artisans from all over the state also come to exhibit their handmade products at the Majuli festival. These include traditional handicrafts and garments, locally made cane and bamboo products, and so on. Food fests are also organized at the festival and there is a rich display of the local delicacies of the state in general and of the tribes of Majuli in particular. There are also other activities undertaken during this time. Seminars are held, discussions on different topics are made and there is general attempt to address some local issues within the state.