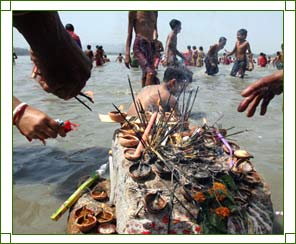 Location:
Twin venue of the Brahmaputra Beach and the Judge's Field
Time of Celebration:
January
Highlights:
Adventure sports and cultural fairs.
The onset of the spring season in January sends a note of excitement and thrills throughout Assam. Everyone is in the mood for adventure. The reason behind this is a unique festival, the Brahmaputra Beach Festival, which is held every year at this time. Coinciding with the harvest festival of Assam (Magh Bihu), the festival is held on the sandy beaches of the vast Brahmaputra River. The colorful scenes and sights of the festival leave the onlookers in a state of elation. This is, indeed, the best time to explore the mesmerizing scenery of this Tropical Paradise.
Every year, the Assam Boat Racing and Rowing Association (ABRRA) and the Assam Tourism Development Corporation (ATDC) organize this fest with the aim of promoting the tourism department of the state as well as exhibiting its traditional sports and culture. Cultural programs are held as a part of the celebrations and various stalls are organized here and there, displaying the craftsmanship of the local artists and artisans. The local arts and crafts displayed at these stalls are usually purchased as souvenirs by the tourists, to take back home.
The major attraction of the Brahmaputra Beach Festival is the adventure sports that are undertaken there. A large number of contests are held as a part of the festival and people take part in activities like beach cricket, beach volleyball, rafting, canoeing, kayaking, wind surfing and kite flying. Besides this, there are other fun-filled activities, like elephant races, cock fighting, and egg breaking, as well. A range of aero-sports, like ballooning, paragliding and hang-gliding, are also held, leaving the onlookers spell bounded and craving for more.