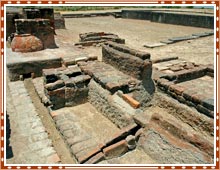 Gujarat has an ancient history and origin to boast of. It was earlier known as Gujarata (Gurjar Rashtra), which means Gurjar nation. Gurjars was on old clan, which inhabited the area during the Mahabharat period. Another opinion regarding Gurjars is that they belonged to Central Asia and came to India during the first century. Gujarat was also inhabited by the citizens of the Indus Valley and Harappan civilizations. This was fortified by the excavations at Lothal and Dholavira.
The strong historical background of Gujarat also owes to the fact that it was ruled over by a number of mighty kings, like the Mauryas, the Scythians, the Guptas, the Solankis and the Mughals. These rulers contributed to the culture of the state significantly, by building a number of monuments and popularizing other traditional practices. The state was later inhabited by other groups, like the Gurjars and the Parsis. These groups remained under the influence of Mughals as well as Marathas till the mid 18th century.
Around 1818 AD, British brought India under the colonial rule and ruled till 1947 AD. The British built the first headquarters of East India Company at Surat. It was later shifted to Bombay, now known as Mumbai. Gujarat was also the birth place of a number of freedom fighters, who served the country selflessly. The prominent leaders were Shri Dadabhai Nauroji - the grand old man of the freedom struggle, Sardar Vallabhbhai Patel - the architect of a united India and Mahatma Gandhi - the Father of the Nation.
These great souls spearheaded the national struggle for freedom and helped in the construction of modern India. They preached the virtues like tolerance, brotherhood, non-violence and patriotism amongst Indians. Some other leaders who participated in the freedom fighting were K.M.Munshi, Narhari Parikh, Mahadev Desai and Ravi Shankar Vyas. After independence, Gujarat was a part of the former Mumbai state.
In the year 1960, the people of Gujarat decided to form a new state for themselves. This led to the partition and formation of two new states Gujarat and Maharashtra. On May 1, 1960 Gujarat was declared an independent state of the Indian Union. The first capital of the newly found state of Gujarat was Ahmedabad. But, in the year 1970, it was shifted to Gandhinagar. Today, Gujarat has transformed into one of the sought-after tourist destination of India.