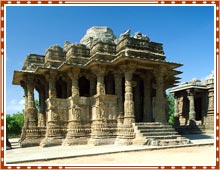 Ahmedabad is the major commercial center of Gujarat. It is also the sixth largest city in India, with a population of more than 5 million. The city was founded by Sultan Ahmed Shah in 1411 AD. The Sultan decided to make the city its capital because of a strange incident he witnessed here. According to a legend, he once saw a rabbit attacking one of his hunter dogs. This made him realize that if the rabbits of this region were so brave, then the people must be braver. Thus, he established Ahemdabd on the banks of River Sabarmati.
He graced his kingdom with a number of magnificent monuments, mosques, pavilions and mausoleums. The Indo-Saracenic style of architecture was started and employed by him in the various monuments that he built. This has contributed immensely to the historical heritage of the city. Today, Ahmedabad is a hustling and bustling city, with a flourishing textile industry. It is often termed as the 'Manchester of the East', owing to the fact that it is the largest denim producer in the world. Many buildings in the city are designed by world-renowned architects, like Le Corbusier, Louis Khan, Doshi and Correa.
Ahmedabad is the land where the Father of the Nation, Gandhiji, fought the battle of national freedom, based on the principle of non violence. Apart from this, the city is a major educational and learning center. Many world renowned educational institutes are located here, which are producing world class professionals. As a result, a huge influx of students, throng the campus of institutes every year. It is also the nerve center of cultural activities in the state. Ahmedabad is famous for its age old traditional folk art. There are also a number of important political buildings in the city.