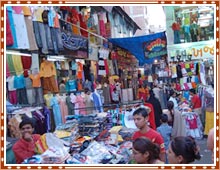 Gujarat is one of the most vibrant states in India. It has rich cultural heritage, which is well rooted in its traditional value system. As a result, the traditional art forms have managed to survive in the state. The age old weaving techniques are practiced by the people with great zeal and pride. The state is a shopper's paradise and presents a wide variety to shop from. It is world famous for its handicrafts, handlooms and textiles, providing the perfect answer as to what to shop for. The exuberant shopping places of Gujarat are simply irresistible. You will be bound to pick something or the other, as a memoir of your trip.
The rich tradition of handicrafts in the state is alive and surviving and it also claims of a prosperous art and craft industry. It even has a flourishing textile industry, which is enhanced by the ancient embroidery work. The fabrics are adorned with distinct embroidery patterns in different colors and stitches. This makes each outfit unique and diverse. The sarees are a huge hit in Gujarat and there is no dearth of shopping places to buy sarees, embellished with Zari works, beadwork, mirrors, sequins, shells as well as tie-and-dye and block-printed designs.
This makes these sarees an exemplary piece of art and a must for every Indian woman's wardrobe. The state is also home to the world famous Patola Sarees Such a wide variety at your disposal is available only in the markets of Gujarat. The markets are thronged during the festive and the marriage season. State Emporiums provide excellent range of handicrafts and other items in a congenial environment. Both plastic and paper currencies are widely accepted throughout the state. Shopping from the road side vendor is also a fun experience, as you often find fantastic items at a good bargain.
Gujarat Specialties