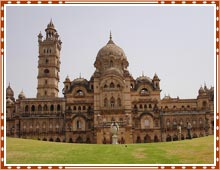 Vadodara city is the administrative headquarter of the Vadodara district in Gujarat. It is often termed as Baroda and is the industrial capital of the state. The city stands on the bank of River Vishwamitri, flanked by a number of graceful buildings like palaces, parks, temples and museums. This has greatly boosted tourism in Vadodara. The cultural galore of Vadodara impels visitors to travel to this historic city. In the ancient time, it served as the capital city of Gaekwads, the former rulers of Vadodara.
The archaeological expeditions in the region indicate that there was human habitation here since the pre historic times. But the present day glory of the city is due to Maharaja Sayajirao, a great patron of art, architecture and music. Vadodara was originally called Vadapadraka, meaning 'a village amidst the banyan trees'. The city houses a number of historical monuments which are worth watching. The unforgettable tale of its past is narrated by the exquisite structures erect in the city.
Tourist Attractions
Laxmi Vilas Palace
Laxmi Vilas Palace is an architectural marvel, designed in Indo-Saracenic style and built by Maharaja Sayajirao III in 1890. It still serves as the residence of the Royal family. The palace contains several splendid chambers, which are examples of skilled craftsmanship. The Darbar Hall is embellished with Italian mosaic floor and walls with mosaic decorations. The palace even houses a remarkable collection of old armory and sculptures in bronze, marble & terracotta.
Kirti Mandir
Kirti Mandir is another must visit place in Vadodara. It literally means the, 'Hall of Fame' and is a memorial for the Gaekwad rulers. It is a stone building, designed in Hindu style, with domes, terraces, balconies and a central shikhara. The building is decorated with murals, done by the famous Indian artist, Nandlal Bose.
Maharaja Sayajirao Gaekwad University
Maharaja Sayajirao Gaekwad University was built by Maharaja Sayajirao Gaekwad, the ruler of Baroda. The university is also known as MSU and is over a hundred years old. It is known for its Faculty of Fine Arts and the Faculty of Performing Arts.
Shoolpaneshwar Wildlife Sanctuary
Shoolpaneshwar Wildlife Sanctuary is located in the Bharuch district of Gujarat. It stretches over an area of 608 sq km and boasts of a rich flora and fauna. The sanctuary houses Leopards, Sloth Bears, Sambar, Wild Dogs, Hyena, Barking Deer and a variety of birds.
Nazarbagh Palace
Nazarbagh Palace is an example of Victorian classical style of architecture. It now houses the royal family heirlooms.
Makarpura Palace
Makarpura Palace is another magnificent palace in the city. It is also built in Italianate style and is now used as an Indian Air Force training school.
Pratap Vilas Palace
Pratap Vilas Palace once served as the residence of the royal family. It is a flamboyant building, designed in Indo-Sarcenic style. It now houses the Railway Staff College.
Hajira
The only existing Mughal monument in Vadodara, Hajira was built in the memory of Qutub-ud-din, the general of Akbar's army. One can also see a step well in the vicinity.
Maharaja Fateh Singh Museum
Maharaja Fateh Singh Museum houses the royal collection of the art of masters like Raphael, Titian and Murillo. It also displays Western and Indian paintings, Greco-Roman exhibits, Chinese and Japanese art and a large collection of contemporary Indian art.
How to Reach Vadodara
By Air:
Vadodara houses a domestic airport, which connects it to Ahmedabad, Delhi, Mumbai, Daman, and Pune.
By Train:
Vadodara is a major railway junction located on the Western Railway, which connects it with Mumbai, Delhi and Ahmedabad.
By Road:
State transport buses and private luxury coaches connect Vadodara to various towns and cities of Gujarat, Maharashtra, Madhya Pradesh, Delhi and Rajasthan.