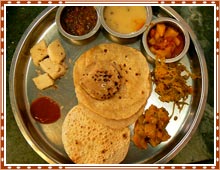 Gujarat is known for its traditional food the world wide over. Gujaratis are great gastronomes and enjoy food. The state provides immense variety in everything, be it tourism, shopping or food. The diversity you will find in the Gujarati cuisine is simply outstanding. So much of variation in just one state is an unusual phenomenon. The taste, preparation and type of food depend mainly on region, climate, location and lifestyle. So, one can say that Gujaratis strongly believe in 'Variety is the spice of life'. The South, North and Saurashtra region of Gujarat presents a completely different platter, which is delectable in its own way.
The food served in the South of Gujarat is influenced by the cuisine of Maharashtra. There is considerably less use of sugar in the dishes. In South Gujarat, people usually consume Jowar, whereas in Saurashtra and North Gujarat, the diet comprises mainly of Bajra and Maize. In Baroda, you will find a blend of all tastes due to its location. In earlier times, wheat was consumed only by the elite and by the middle class during the festive season. With changing time, things have changed. Today, wheat forms an integral part of the Gujarati platter and is used in a number of ways.
The Gujarati Thali is absolutely a treat for your taste buds. Apart from the taste, it is so attractive in appearance, that just a glimpse of it will bring water to your mouth. It contains all the four major components, namely Cereal, Pulses, Vegetables, Rice and supplements like pickle, chutney, papad, buttermilk and salad. There is ample use of ginger, garlic, green chilies and jaggery in various dishes. Sugar is also used at times. It is a completely delectable platter that cannot be resisted at any cost. However, the staple diet in Gujarat is Tuver Dal served with rice. There is an entire array of food items prepared in the state.
Sweets