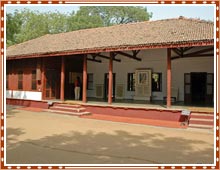 Sabarmati Ashram is situated on the banks of River Sabarmati. It was founded in the year 1917 AD and is also known as Gandhi Ashram or the Harijan Ashram. The ashram once served as the residence of the Father of the Nation. It is from this place that Gandhiji spearheaded the Dandi March, on 12th March 1930. The March was an important event in the freedom struggle of India. It was aimed at revolting against the salt laws imposed by the British Government. The ashram faces the prison on one side and the river on the other.
It is said that Bapu (Gandhiji) chose the place because it gave him inspiration to move ahead with the freedom struggle undeterred. He found it the perfect place to kick start the national freedom struggle from here. The first campaign launched from the Sabarmati Ashram was the Satyagrah of the Ahmedabad Textile Mill workers. It was followed by the Kheda Satyagrah. Namak satyagrah was the last campaign launched from here. Owing to the importance of Sabarmati Ashram in the National Movement, it is also referred to as the 'Satyagrah Ashram'.
Today, the ashram has become a national monument. It is a holy place for all the Gandhians in the world. A large number of tourists visit the place every year to pay their homage to the father of the nation. It also houses a museum which preserves an invaluable collection, comprising of Mahatama's correspondence, photographs and other memorabilia. The ashram also has a library and a memorial center. Sound and light shows are also organized for the visitors, to give them an insight into the life of Gandhiji and the national movement.
The place where Gandhiji actually stayed is also preserved within the boundaries of the Sabarmati Ashram. It is known as Hriday Kunj and still contains the charkha on which he used to spin cotton. Apart from this, there are a number of other personal belongings which can be viewed here. The Nandini Guest house in the vicinity is also worth seeing. It is here that the stalwart leaders of the nation stayed when they came to see Mahatma. In all, Sabarmati Ashram is a must visit place, to remember the era and its great souls who sacrificed their lives for the freedom of our country.