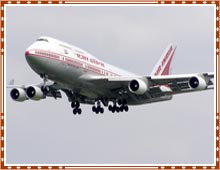 The first and foremost question which comes to your mind before traveling to any place is how to reach there. Ahemdabad is one of the important cities in Gujarat. It is a significantly flourishing industrial and commercial center. As a result, the city boasts of strong transport and communication links with the rest of India. This indeed helps the chunk of tourists coming to the city. You can get to Ahmedabad by different means of transport, primarily, plane, train and road. The city is equipped with all the facilities to handle the influx of the people, traveling here, for various purposes.
By Air
The airport is situated just 15 km towards the northeast of Ahmedabad. There are both national as well as international flights operating from here. The direct international flights operate to London, New York, San Francisco, and Chicago as well as Kuala Lumpur, Muscat, Kuwait, Sharjah and Qatar. There are also daily flights of Singapore Airlines from Ahmedabad to Singapore. The city is also well connected to all the major cities of India, via domestic flights. There are daily flights from Mumbai, Delhi, Indore, Chennai, Bangalore, Goa, Kolkata and many other cities and towns of the country.
By Train
Train is another popular medium of getting to Ahmedabad. There are a number of trains to and from the city, connecting it with the other metros. Apart from this, all the major cities and towns like Bangalore, Pune, Indore, etc are also connected via different trains. There are both direct as well as long distance trains on the route.
By Road
Other option for traveling to Ahmedabad is by road. There are a number of buses on the route for a convenient and comfortable journey. You will love the drive from Mumbai to Ahmedabad on the new highway. The distance is around 550 km and some very scenic spots fall on the route. Vapi, Valsad, Surat, Vadodara, Anand, and Nadiad cities will also fall on your way. If you are traveling from Delhi, journey by road can be very tiring. To avoid, this you can stop at Udaipur, Ajmer and Jaipur on you way, to take some rest. Recently built Ahmedabad-Vadodara Expressway is another delight for the ones who love to drive.