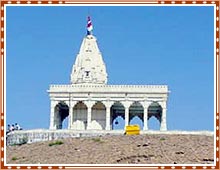 Bhavnagar is a coastal city situated in the state of Gujarat. It is located in the Saurashtra region and is also known as Kathiawar. Bhavnagar was once the capital of a princely state ruled over by the Maharaja of Bhavnagar and still exhibits the age old charm and royalty, which contribute to travel and tourism in the city. It was founded by Bhavsinhji Gohil, near the Gulf of Cambay. He chose the strategic location so that sea trade could be carried out easily from the port. Thereafter, Gohil Rajput ruled over it till independence.
The Rajputs came to the region from Marvar and established their capital at Bhavnagar. Initially, the royal family lived at Darbargadh and later shifted to Motibaugh and Nilambaugh Palace. The city remained a major port for about two centuries. The trade was carried out mainly with Africa, Mozambique, Zanzibar, Singapore and the Persian Gulf. This resulted in enormous revenue generation and developmental activities. The progressive rulers of Bhavnagar contributed immensely to the design and construction of the excellent buildings in the city.
After Independence, in 1948, the Deputy Prime Minister of democratic Indian Union, Sardar Vallabhbhai Patel, shouldered the responsibility of unifying the 565 princely states of India. The last ruler of Bhavnagar, Late Sir Krishnakumar Sinhji handed over the administration of the state to the people's representative in the year 1948. Thus, Bhavnagar became the first state to merge with the democratic Indian Union. Bhavnagar is still an important trade center for the cotton goods manufactured in Gujarat.