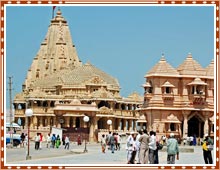 Somnath Temple is situated in the Junagadh district of Gujarat. It is a famous temple dedicated to Lord Shiva. The temple is one of the twelve jyotirlingas in India. The most interesting fact about the Somanth temple is that it has been built and destroyed six times. The present structure was rebuilt the seventh time. There a number of legends attached to the Somnath Temple of India. It is said that the Moon God, Chandra was married to 27 daughters of Daksh Prajapati, but he favored Rohini.
This enraged the Prajapati and he cursed Moon to wane. In order to recover, he prayed to Lord Shiva at the Prabhas Tirtha. Lord Shiva was pleased with his devotion and cured him. Then, on the advice of Brahma, Moon God built the temple in the honor of the Lord and to show his gratitude. It is said that the first temple was built by Moon God in gold, followed by Ravana in silver, Lord Krishna in Sandalwood and King Bhimdev in Stone. The Somnath temple has a magnificent sprawling complex and is a great pilgrim site for the Hindus.
The present temple is built in Chalukya style and has been constructed in such a manner that there is no land between the temple shore and the South Pole. The summit of the temple rises to a height of 155 feet. There is a Kalash (pot vessel) on the top, which measures 10 tons. The flag mast on the peak is 37 feet long and is changed three times during the day. The construction of the present Somnath temple started in 1950. The jyotirlingam pratishthapan ceremony was done by the first president of India, Dr, Rajendra Prasad. All these facts reveal the majesty of the temple and its importance for the devotees.